Group Trip Offer
Treat your school, nursery, pre-school or group to a visit to the brand new Jungle in Warrington and you'll be the most popular teacher in the school!
You might have heard the news that The Jungle has moved to smart new bigger premises closer to the town centre in Warrington? We are really proud of our amazing new centre that we'd love your school to come and play!
Our multi-level play areas provide everything you need for a wild day out... explore the multi-level play frame, bounce across the trampolines, slip down the waterfall and snake slides, swing over the crocodile pit, bounce across the suspended boulders then race the aerial runway before a diving into the ball pool for a well earned rest!
Why not book a group visit as a treat for good performance or attendance, an end of term celebration or a great alternative to your regular PE lesson!
2 hour play session with unlimited juice for just £3.50 per child

2 hour play session, unlimited juice and lunch for just £6.50 per child

Plus… a FREE tea or coffee, cappuccino or latte for accompanying teachers
To book a visit to The Jungle please contact Jan or Jeni at our Warrington site on 01925 659995 or email warrington@thejungle.uk.net

We can't wait to show you our new centre, we know you're going to love it!
Please Note:
Offer available for advance group bookings at The Jungle Warrington
Monday - Friday 10am - 3pm during term time
Minimum 12 Children
Height Restriction of 1.45m applies
Children must be supervised at all times
Socks must be worn on the play frame
Toddler Time Activity Sessions
The Jungle employs a dedicated Activity Co-ordinator to organise and run our Jungle Tots activity sessions. Sessions, which are included in the entry price, are held twice daily between 10.30am and 2.30pm, Monday-Friday in term time.
Funky Fitness - Wake up, stretch & have some fun with our funky fitness sessions
Messy Monkeys - Enjoy sticking, painting and colouring in our arts and craft sessions
Tiger Tunes - Time to sing, join in with action rhymes and play instruments
Sleepy Snakes Story Time - Relax and listen to a Jungle story or two
After School Offers
Save money with our great after school offers
What's On for Under 1's
We love babies visiting The Jungle - did you know it's free for under 1's?
Why not get together with a few friends and enjoy our cafe facilities at any time or come along to one of our fantastic sessions specifically for parents with babies. Please note that if you are attending the sessions with a toddler as well as a baby you should bring another adult who can supervise your toddler.
---
Monday - Sweaty Mama Fun Workout Class for Mums and babies under 2 Learn more...
Tuesday - Baby Yoga and Massage Classes run by Warrington Baby Yoga Find out more...
Wednesday - Messy Play for under 1's - no need to get messy at home, come along to this very busy session and meet new friends. Scroll down for more info!
Thursday - Bumps & Baby morning - gather a group of friends and enjoy a complimentary tea or coffee this morning. We get lots of mats and baby toys out on the mezzanine floor so you can relax and let the babies play. Scroll down for more info!


Join our special Facebook group for babies and keep in touch! Join here...


---



FREE Messy Play for under 1's
A great way to meet new friends whilst your baby has fun. Every Wednesday morning from 10.30am to lunch.
Feel free to stay for lunch afterwards.
Join our Facebook group to find out more. Facebook Join
Bumps & Baby Coffee Morning Meet up
Every Thursday morning from 9.30am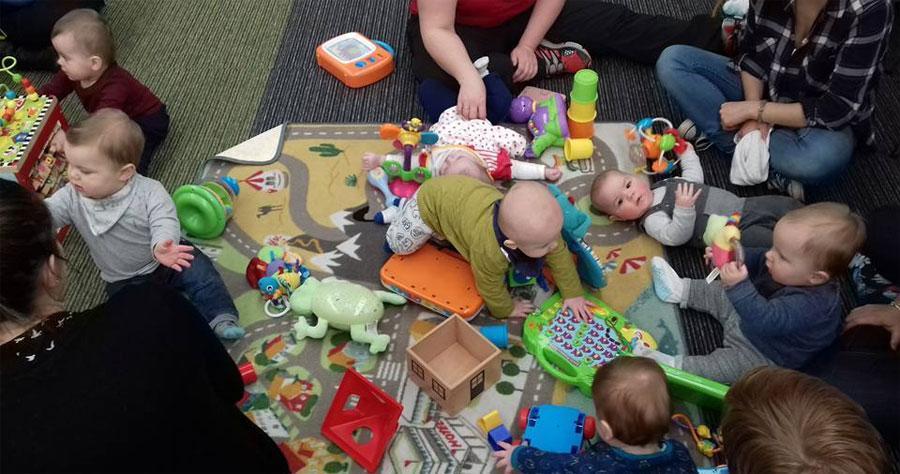 Disco Night