Toddler Time Activity Sessions
The Jungle employs a dedicated Activity Co-ordinator to organise and run our Jungle Tots activity sessions.
Sessions, which are included in the entry price, are held twice daily between 10.30am and 2.30pm, Monday-Friday in term time.
What's On for Under 1's
We love babies visiting The Jungle - did you know it's free for under 1's?
Why not get together with a few friends and enjoy our cafe facilities at any time or come along to one of our fantastic sessions specifically for parents with babies. Please note that if you are attending the sessions with a toddler as well as a baby you should bring another adult who can supervise your toddler.
---
Tuesday - Sweaty Mama Fun Workout Class for Mums and babies under 2 Learn more...
Wednesday - Messy Play for under 1's - no need to get messy at home, come along to this very busy session and meet new friends. 10.30am. Scroll down for more info!
Thursday - Sensory Play for Babies - sensory play is a great way of developing babies' physical and fine motor skills, cognitive development and social skills too. Come along to this fantastic free session from 10am - 10.45am!


Join our special Facebook group for babies and keep in touch! Join here...


---
FREE Messy Play for Babies under 1
A great way to meet new friends whilst your baby has fun. Every Wednesday morning from 10.30am to lunch.
Feel free to stay for lunch afterwards.
Join our Facebook group to find out more. Facebook Join
Sensory Play for Babies under 1
Sensory play helps children to develop their physical skills; sensory play introduces actions such as shaping, scooping and moulding. These skills require multiple muscles to work together which helps a child's fine motor skills.
Sensory play also helps with children's cognitive development. When children engage in sensory play they learn new things about different objects, they learn about new feelings such as cold, wet and sticky. This helps a child's brain to recognize and sort out different things and different sensations.
It also helps to develop social skills as children will communicate with each other and learn how to share and how to recognize another person's feelings.
Come and try out our FREE sensory play for babies every Thursday morning from 10am - 10.45am.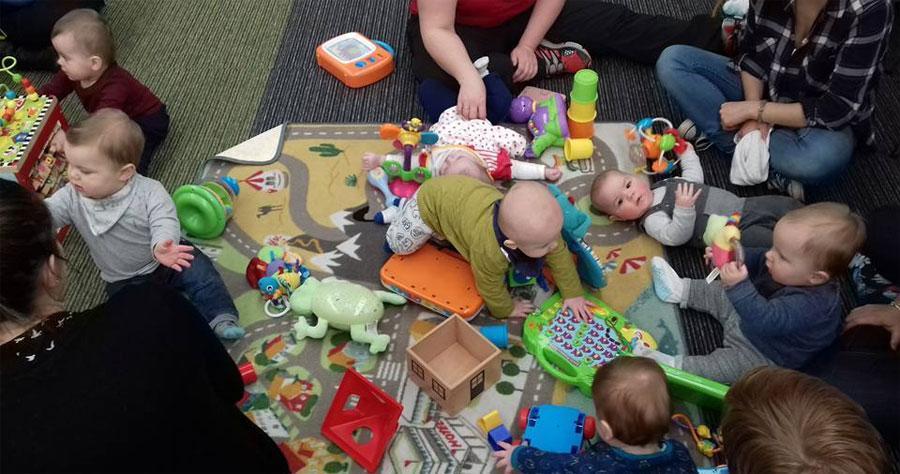 Sweaty Mama Exercise Classes
Effective, fun workouts for you and your child - Warrington